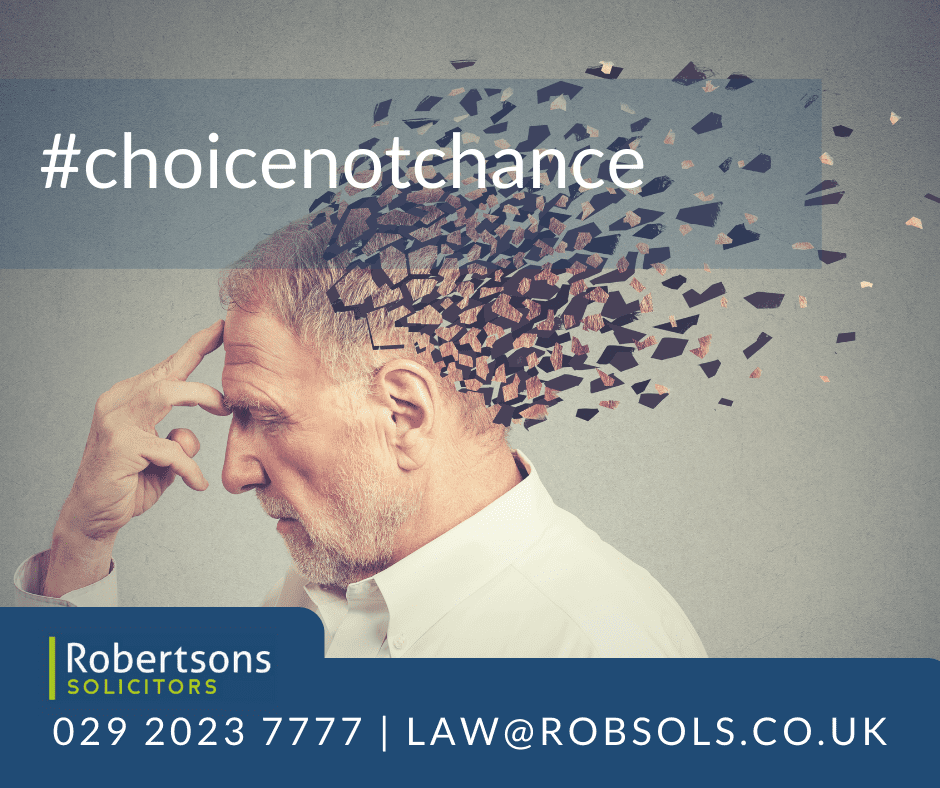 98% of people in Wales leave important health and welfare decisions to chance
A staggering 67% of people incorrectly believe that their next of kin can specify what they would have wanted if they are no longer able to
71% would like a family member to make medical and care decisions on their behalf, in the event of mental incapacity
75% haven't discussed end of life medical and care wishes
73% of those in Wales are worried about becoming mentally incapacitated and losing the ability to make decisions for themselves
63% believe that being on the NHS organ donor register ensures that organs are donated following death, however this is not the case.
34% admit to having made no provisions at all, such as a will, LPA, pension or funeral plan
Just two percent of people surveyed in Wales by SFE have a health and welfare LPA in place
By 2025, more than 13 million people in the UK who are at risk of mental incapacity will not be prepared
Coalition of partners joins forces to warn of 'incapacity crisis' led by SFE, including Baroness Ilora Finlay, Alzheimer's Society, Dying Matters, Age UK, Anchor and SOLLA
A leading Cardiff law firm is urging clients to chat to their loved ones about their future wishes as part of a national campaign to stave off a looming 'incapacity crisis'. Robertsons Solicitors has joined Solicitors for the Elderly (SFE) and independent think tank Centre for Future Studies, following a report revealing the UK is leaving medical and care preferences to chance.
The report looks at the ever-increasing number of people living with dementia which, combined with the failure to plan ahead for mental incapacity, exposes a looming crisis. The study found that three quarters of people in Wales have not discussed end of life medical and care wishes should they lose capacity from conditions like dementia, while a further 34% admit to having made no provisions at all for later life, such as a will, pension, funeral plan or lasting power of attorney (LPA).
A coalition led by specialist organisation SFE and including Robertsons is joining forces this week to encourage people to tackle the taboos around end of life planning. Robertsons wants people in Wales to talk to relatives about their medical and care preferences should they become unwell at a future stage, and to write down their wishes in a health and welfare LPA.
Robertsons' head of probate, Afonwy Howell-Pryce – who holds the SFE's prestigious accreditation to champion older and vulnerable people – said: "People become unable to make their own decisions about their daily routine and medical care for all sorts of reasons, such as losing mental capacity through an illness like dementia.
"Having a health and welfare LPA in place allows you to choose family members or other trusted individuals, known as attorneys, to make decisions on your behalf, in line with conversations you've previously had about what you'd like to happen. With the right document in place, they will be able to decide for you or help you decide about things such as where you live, your daily routine and the medical treatment you receive."
The SFE has warned that the cost of doing nothing will impact individuals and families across the country, whilst putting further strain on health professionals and services.
The research found that while 73% of people in Wales are worried about dementia and losing the ability to make decisions for themselves, 75% have not spoken about, or even considered, personal medical and care end of life decisions.
The study also revealed a number of worrying misconceptions around planning ahead, especially in relation to health and care preferences. Two thirds of people in Wales incorrectly believe that their next of kin can specify what they would have wanted if they are no longer able to, yet these decisions can often be out of a loved one's hands if a registered health and welfare LPA is not in place.
There are currently 928,000 Health and Welfare LPAs registered with the Office of the Public Guardian (OPG) across England and Wales, compared to the 12.8m people over the age of 65 who run the risk of developing dementia. By 2025, it's calculated that 15.2m people will be at risk of mental incapacity, with 2.2m health and welfare LPAs in place – meaning that the health and welfare wishes of 13m people will not be taken into account.
Afonwy added: "It is crucial to have a conversation with loved ones in order to make specific medical and care wishes known – such as where you are cared for, whether you wish to be an organ donor and whether or not you would want to be resuscitated. Many of us don't have these conversations with our loved ones while they are still able and, sadly, by the time they need care, it's often too late to find out what their wishes are.
"As the report by SFE has highlighted, many people wrongly assume that their next of kin can deal with matters on their behalf. Although some decisions may be able to be made by a next of kin the vast majority cannot as a next of kin does not have legal authority; it is always safer not to assume and have the proper legal documents in place."
SFE chief executive Lakshmi Turner said: "Most of us do not like thinking about, let alone talking about, death, disability or disease, despite the fact that it touches all our lives – but it is essential that we do so. Whilst it's great that more and more of us are putting wills in place and establishing plans for finances and assets, far too few of us are planning ahead for our health and care needs and wishes, leaving this to chance.
"It's time to set the record straight. Planning ahead by talking to family or friends shouldn't be seen as doom and gloom, it's about having a positive conversation about welfare, empowering your loved ones and making the decision-making process easier for everyone."
To find out more about making a health and welfare LPA, call Robertsons on 029 2023 7777, follow them on Twitter @RobertsonsLegal and Facebook @RobertsonsSolicitors and join the #ChoiceNotChance conversation.