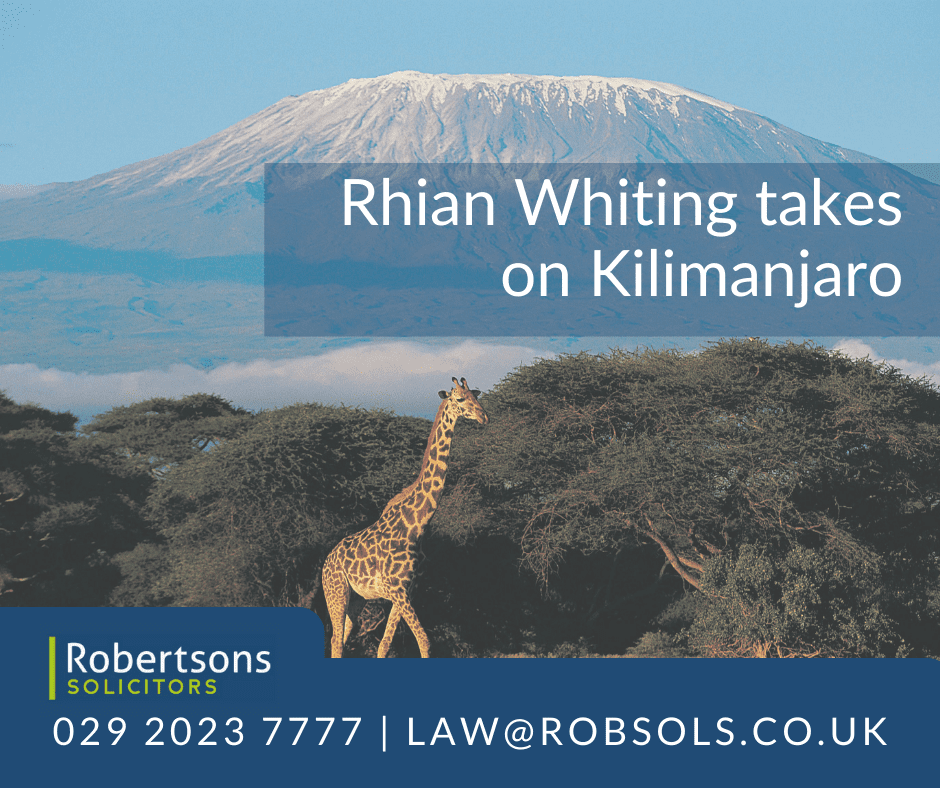 Rhian Whiting, our specialist in Children's law is preparing to raise £5,000 for Cancer Research Wales by climbing Mount Kilimanjaro in February 2021.
One of the seven summits, Mount Kilimanjaro is the world's tallest free-standing mountain and is the highest peak in Africa. After a trek of around 9 days, Rhian and her guided group will reach the summit at 19,341 ft above sea level having approached from the south trekking through savannah, cloud forest, moorland and alpine desert before reaching the top.
One of the most daunting aspects of the challenge will be the risk of suffering from altitude sickness. It occurs as breathing becomes more difficult because the levels of oxygen intake are reduced. Whilst training can help reduce the potential for altitude sickness, it can affect anyone regardless of age, sex or physical fitness. The result can be that taking just a few steps can be extremely challenging and render the sufferer unable to continue.
It's a somewhat different environment to that usually found in the centre of Cardiff. The achievement will be immense," said Rhian, "but it is the money that we will raise for Cancer Research Wales that will be the glory. To fund continued research into prevention, early diagnosis and better treatment of cancer, in Wales and across the world.
Rhian is a member of the Law Society's Children Panel and works with children, parents and members of extended families in children's law matters.
As a firm, we're delighted to sponsor Cancer Research Wales in this trek and also support our colleague Rhian in taking this challenge on! Our values centre around Service (providing the best we can), Expertise (ensuring a depth and breadth of experience in our people) and Community (supporting the community around us). Whilst she may be doing it from Tanzania – that's exactly what Rhian will be doing!
Rhian can be sponsored via her just giving page and we'd be delighted if you could spare as little (or as much!) as possible to sponsor her. You can sponsor Rhian by clicking here.
Good luck Rhian! We're with you … in spirit!