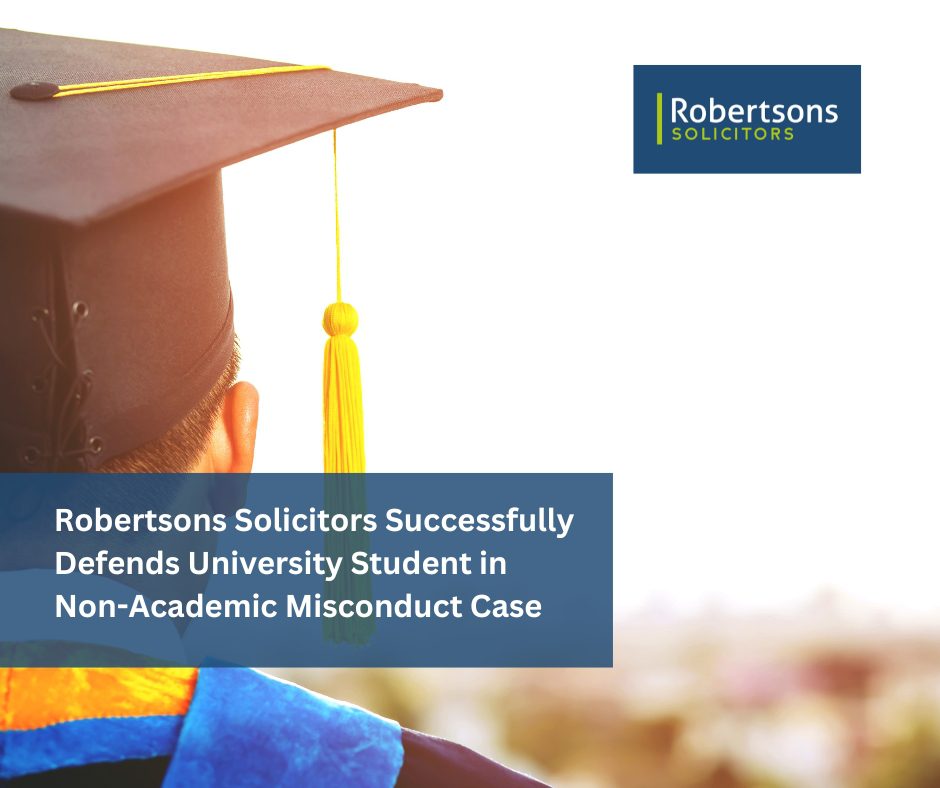 In a recent case, our Education Law team, led by Education Law Solicitor Rhys Palmer, secured a victory in defending a university student facing a serious allegation of non-academic misconduct.
The Background:
In 2023, a final-year student found themselves facing a significant allegation of non-academic misconduct connected to an incident purportedly occurring in 2021. This situation not only raised serious concerns about their graduation prospects but also left their future prospects hanging in the balance.
Our Education Law Support:
The case involved a rigorous legal battle, during which Rhys meticulously reviewed the evidence and devised a strategy to present a compelling defence on behalf of the student. The student faced a disciplinary panel, charged with addressing the allegations and making a life-changing decision. After an arduous battle and a compelling presentation of the defence, the disciplinary panel reached a verdict in favour of the student. The allegations were not substantiated, and the student's name was cleared.
Education Law Solicitor, Rhys Palmer, commented "This case was a testament to the importance of legal representation in student disciplinary hearings. I'm proud of our team's dedication and the strength our client showed throughout the process. It wasn't just about clearing the student's name; it was about ensuring their future stayed on track."
Our client added "I'd like to take this opportunity to commend Rhys Palmer for his leadership and support throughout my recent university dispute. I fell victim to some malicious false accusations, and due to the significant time elapsed, I found myself struggling to organise my thoughts and what little evidence I could find. Rhys was initially very comforting and reassured me before getting down to business and helping me curate a strong, evidence-based plan to portray my side of things. With Rhys' support, I felt confident that justice would be served."
This case is a powerful reminder of the importance of having legal support in student disciplinary matters. If you or someone you know is facing a similar situation, don't hesitate to reach out to Robertsons Solicitors for expert legal advice and support.