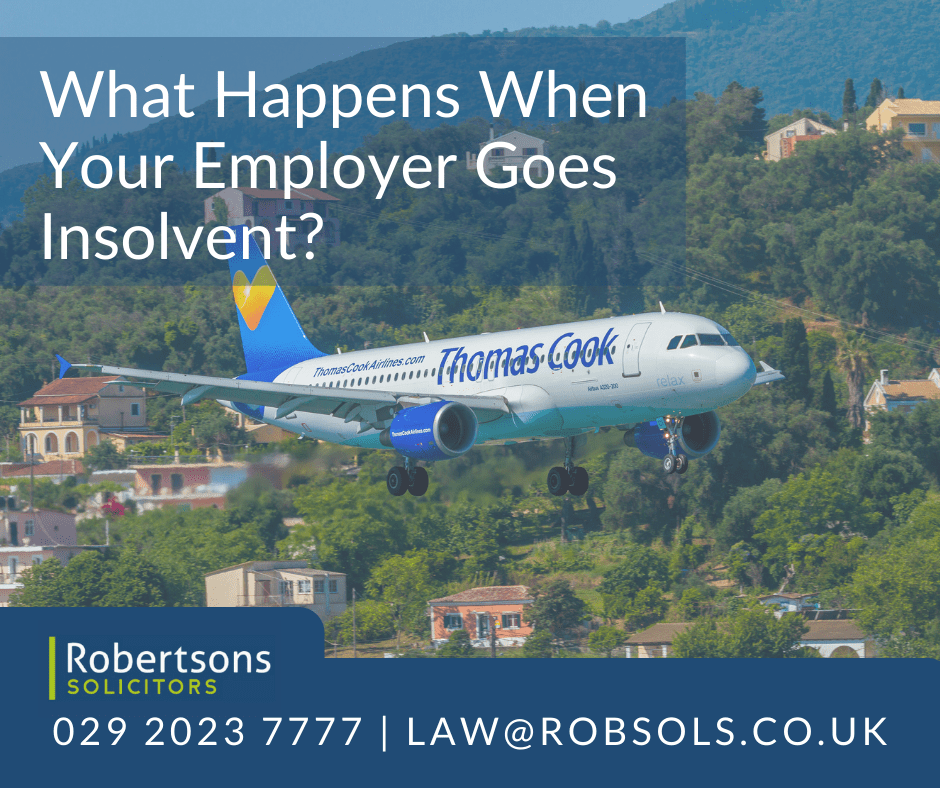 While many holidaymakers were stranded abroad in what was described as the biggest peace-time repatriation in British history, and still more face losing their holiday or their money, arguably the biggest losers are those employed by fallen travel giant Thomas Cook.
Thousands of staff members at the beleaguered firm arrived for work only to be told to go home again or to find the doors locked when the travel company was plunged into insolvency and no longer able to trade.
Holidaymakers may have, and still be, suffering some short term pain, anger and frustration, but those who worked at Thomas Cook are the ones who will be facing tough times for a much longer period of time, as the travel firm which had been a household name for so long becomes the latest casualty on the British high street.
Where does that leave Thomas Cook employees?
Following the Thomas Cook collapse, KPMG, which is the insolvency practitioner licensed to act on behalf of the firm launched into action to get in touch with workers who were affected by the closure of their employer.
Insolvency experts at the accountancy company will have worked to provide advice to staff on what they could do to make a claim for wages they may be entitled to as well as other money from such benefits as holidays or bonuses. However, trying to figure out whether employees in such a difficult situation are entitled to pay-outs can often be tricky.
While Thomas Cook employees will have at least had the benefit of advice from respected insolvency practitioners, when a situation like this happens and a firm closes suddenly, particularly if it is a small organisation, its staff can be left without any idea of what to do next. Unable to go to work, employees may feel in the dark about the amount of money they could be entitled to, and what they can do to try to get it.
What employees need to do first
Firstly, an employee needs to find out if the firm they worked for has gone into insolvency or whether it has closed for other reasons. If the business or organization is not officially declared insolvent, then an employee will not be able to seek help from Insolvency Service professionals, who fall under the umbrella of the Department for Business. Instead, staff members are left with no choice but go to the specialist employment tribunal service to lodge their own claim and try to claw back any money and wages they are owned straight from the business they used to work at.
Types of payment employees could be owed
It is not just wages that employees may be entitled to. There are other payments to consider when working out what monies a staff member could be able to claim, either through an employment tribunal, or by going to the Insolvency Service if, like Thomas Cook, their former employer is actually insolvent. Here are the monies to consider for employees making a claim.
Wages which haven't been paid
A former staff member may have worked for certain periods of time, but if the company collapsed before payday, they may still be owed their wages. They could also be entitled to commission they should have earned for making sales, for example, or a bonus they would ordinarily have been paid. Employees are able to seek help from experts at the Insolvency Service. Alternatively, they can try to claim directly from the firm they were made redundant from, to recover pay of up to a maximum of eight weeks, capped at £525 per week. The level of the cap is reviewed each year.
Payment for their notice period
Employees who are made redundant would generally be given a notice period, but this obviously doesn't always happen when a company is suddenly made insolvent. Employees may be entitled to claim notice pay. However, this does not apply to very new employees as staff members must have been in employment at the firm in question for one month or more. However, provided they meet that requirement, they could be able to make a claim to be paid one week of wages for each year they have been employment at the company. This is not an unlimited claim, however, and has a cap of 12 weeks. This payment is also subject to the £525 Insolvency Service cap if the former employer does not have the financial means to pay the full sum. However, if it is decided that they are financially able to pay, the employee can make a claim for the full amount.
Holiday pay
There are often times when a company may have gone into insolvency, but a staff member has not taken the full amount of holiday leave they would have been entitled to up until that period. Any employee who has accrued holidays without actually taking the leave should be able to claim back a maximum of six weeks' pay. However, there is still the £525 Insolvency Service cap. Without the protection of the Insolvency Service, the employee will have to try to recover holiday pay directly from their former firm.
A redundancy payout
This one does not apply for newer employees, but if a member of staff has been in service at the firm for two years or more at the date they found themselves redundant as a result of insolvency, they should be able to make a claim for statutory redundancy. This can be a more complicated payment to work out, although there is a calculator online on the Insolvency Service website which should help. Basically, redundancy payments are calculated based upon how old the employee was when they were made redundant, as well as how long they were employed at the company. Again, the weekly £525 cap comes into play with redundancy payouts.
A Protective award
A payout that is not as well-known among employees, staff members could also be entitled to what is known as a protective award. This comes into play in larger firms where at least 20 people have been made redundant. Employees must show that they were not properly informed about a possible dismissal and that the company failed to effectively consult them about their impending redundancy. Staff members who make a successful protective award claim are entitled to a pay equivalent of what they would have earned over 90 days. This award is in existence to crackdown on firms which do not properly consult with their staff when redundancies are possible or imminent. Protective awards are designed to act as a punishment for companies who have not acted as they should rather than being a way of compensating members of staff. This award must be made as a claim by going to employment tribunal services rather than the Insolvency Service.
Timescales involved
Employees of firms which have made them redundant need to be aware that tight timescales exist which govern whether they are entitled to a payout. Employees generally have a restricted time period to make sure their entitlement to make a claim is protected. This timescale is usually a three month period from the point they were made redundant, minus one day. Therefore, any employee who has been made redundant and believes that they could be entitled to unpaid monies, or to compensation, needs to ensure that they take timely advice from a legally-qualified professional so they give themselves the best possible chance of recovering the money they are entitled to.
Are you going through difficulties with your employer? If so, contact our employment law specialists for advice on your options.