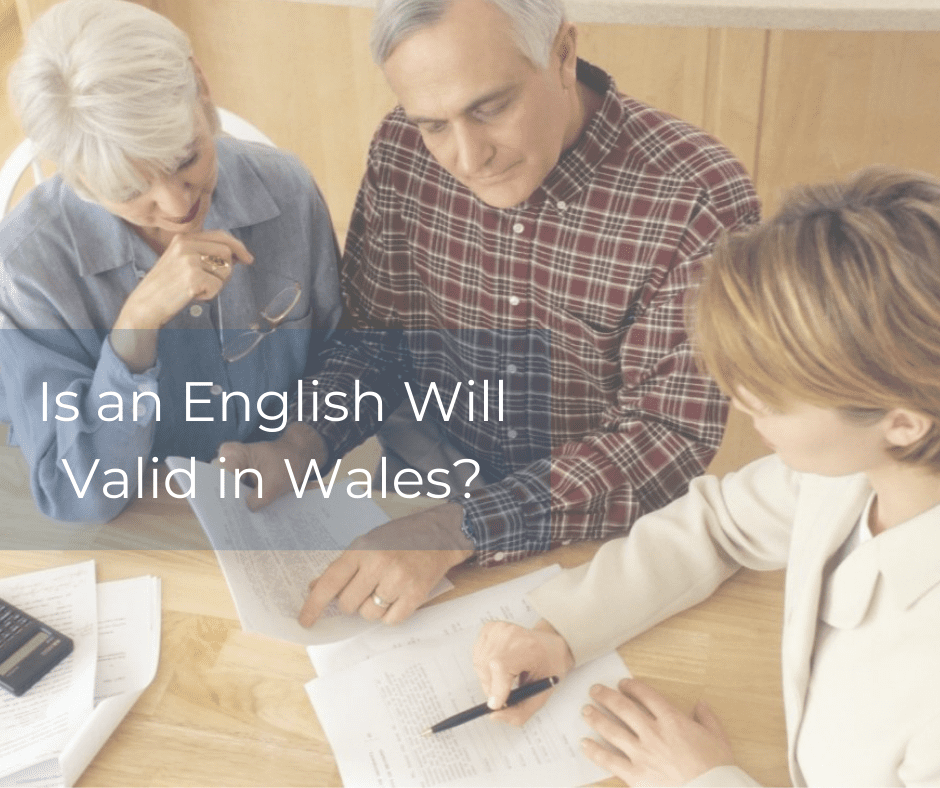 In South Wales, like anywhere, protecting your property and your money for the generations to follow is important for those that can, and want to make sure their family is cared for.
The laws surrounding Wills can sometimes be difficult to unravel and hiring a professional is the best way to ensure your wishes are carried out.
If you're living in Wales and need advice on law and other situations surrounding issues relating to Wills, then you might be wondering if an English Will is valid in Wales.
In our helpful article, we'll cover everything you need to know on this topic. Let's start with the takeaway answer first, then we'll head into more details.
The Wills Act 1837 governs all Wills in England and Wales. So there are no requirements for those living in Wales to review their Will if you move to England. If you move to Scotland you are advised to do so, especially if you have remarried or have children from a former marriage. Generally, Irish wills are also recognised.
Here's a quick summary table concerning the validity of English Wills in Wales, and other areas of Great Britain.
| | | |
| --- | --- | --- |
| Region | Validity of English Wills | Action Required |
| Wales | Yes, entirely valid | Process as normal |
| Scotland | Mostly, with some exceptions | Obtain Solicitors Advice |
| Northern Ireland | Yes, with a few exceptions | Obtain Solicitors Advice |
So with the short answer in mind, so you can more easily understand whether an English Will is valid in Wales, let's first cover the meaning of 'England and Wales' in terms of the law.
In Wills, what do England and Wales mean?
English law is a constitutional single legal system that precedes the former 'Kingdom of England'.
The Kingdom of England was a sovereign state from 12 July 927 until it united with Scotland in May 1707 and became The Kingdom of Great Britain.
It is more easily explained as a legal jurisdiction governing two out of the four countries in the United Kingdom.
England and Wales – a single unit
England and Wales are treated as a single unit for some purposes, and most laws applying to England also apply to Wales.
However, Parliament does also pass laws specific to Wales and vice versa – which is a much rarer occurrence now than during the first half of the 20th Century.
"Most laws applying to England also apply to Wales"
National Assembly of Wales
In 1999 an act was passed that means Wales does have a certain amount of self-governance. Although, in reference to Wills, both countries are treated as a single entity.
This law was expanded by the Government of Wales Act 2006, which meant that Wales was able to pass its own laws.
Which law governs Wills in England and Wales?
As we saw in the short answer – because the Wills Act 1837 refers to England and Wales, a Will made in England is valid if you reside in Wales.
This law has stood for over 200 years, and previous to this, there were individual laws that governed the following areas of the U.K:
Acts that were passed between 1693 and 1726 changed this law …or what's referred to in legal terms as 'the right of bequest'.
One of the chief consequences of this act was to provide protection to those who might be vulnerable to their decisions being influenced.
A law was passed regarding how a person's land, property, money and other assets should be divided up and distributed.
"A will made in England is valid if you reside in Wales."
Will signatures should be witnessed by two people
This Act meant that all Wills valid in England and Wales need to be in writing and signed by the person making the Will, (known in legal terms as the testator) and also witnessed by two people.
However, the laws in Scotland differ slightly and it does have its own law which states that only 1 person needs to witness the will signature.
What makes a Will valid in Wales?
If the Wills Act 1837 is not abided by, it could be that a Will written in England or Wales is invalid.
For any Will in England or Wales to be lawful and valid, it must be signed, dated and witnessed.
The number of people to witness the signing varies according to whether the will is produced in England and Wales, or Scotland.
"For any will in England or Wales to be lawful and valid, it must be signed, dated and witnessed."
Original wills in Wales
For those interested in family history or for other reasons, it's worth knowing that many original Wills have survived. Depending on which court they were probated. 'Probated' simply means the validity of the Will was established.
Original Wills in Wales have survived from 1565, but a group of courts known as the Principal Probate Registry replaced the Welsh Ecclesiastical Church probate courts on 11 January 1858.
There were seven of these Church courts where the ministers of some parishes were given the right to 'prove' their parishioners' Wills if they had land and property within the parish. This was referred to as 'peculiar jurisdiction'.
Anyone wishing to find a Will from before 1858 can search here at the Library of Wales.
The courts have a continuous run of Wills from that time until 1858 when ecclesiastical probate courts were abolished.
From this point on, all Wills in England and Wales were then 'probated' or validated at district courts or alternatively at a central court in London called the Principal Registry. This is a register of Wills – that hold original copies of each Will.
"Original Wills in Wales have survived from 1565, depending on the court where they were probated."
What is the principal probate registry?
Probate registries are where all probate records concerning Wills are ultimately stored. Presided over by HM courts, it's where all the legal documents are issued and authority given to those who are dealing with the estate of someone who has died.
However, it's not compulsory for Wills to be on the register, but some of them are kept safely stored for solicitors and other legal professionals to access.
If you're dealing with the Will of a loved one yourself, you might need to visit the private registry.
If you're using experienced solicitors who are experts in probates, wills and trusts, this process can and will be taken care of for you.
What happens if I don't have a Will?
Sorting out an estate when there isn't a Will can sometimes take a little longer but here at Robertsons Solicitors, we can make this process more straightforward than if you tried to tackle it alone.
Using a solicitor or probate specialist
Making sure any properties, land, money or other assets are split fairly can be tricky if a loved one has died without first making a Will.
It could also be difficult to unravel family relationships which under intestacy rules, could make the estate difficult to distribute.
For anyone living in Wales, in this situation, our probate services help keep things simple, whether we have been appointed Executors or whether we are acting for the next of kin for the person who has died.
The best probate solicitors in Wales will be able to provide not only advice but also reassurance that all legalities have been met and dealt with on your behalf. They will ensure the best possible outcome for you and other beneficiaries.
And finally…
Here at Robertsons Solicitors, established in 1903 in the docklands area of Cardiff, we can help you to make the best decisions in your end of life plans.
We pride ourselves on giving our clients immediate support and wise advice in all aspects of Wills and probate.
We are fully registered with Certainty – the National Will register. So get in touch with our specialists to discuss any questions you have surrounding Wills, Probate and Powers of Attorney.