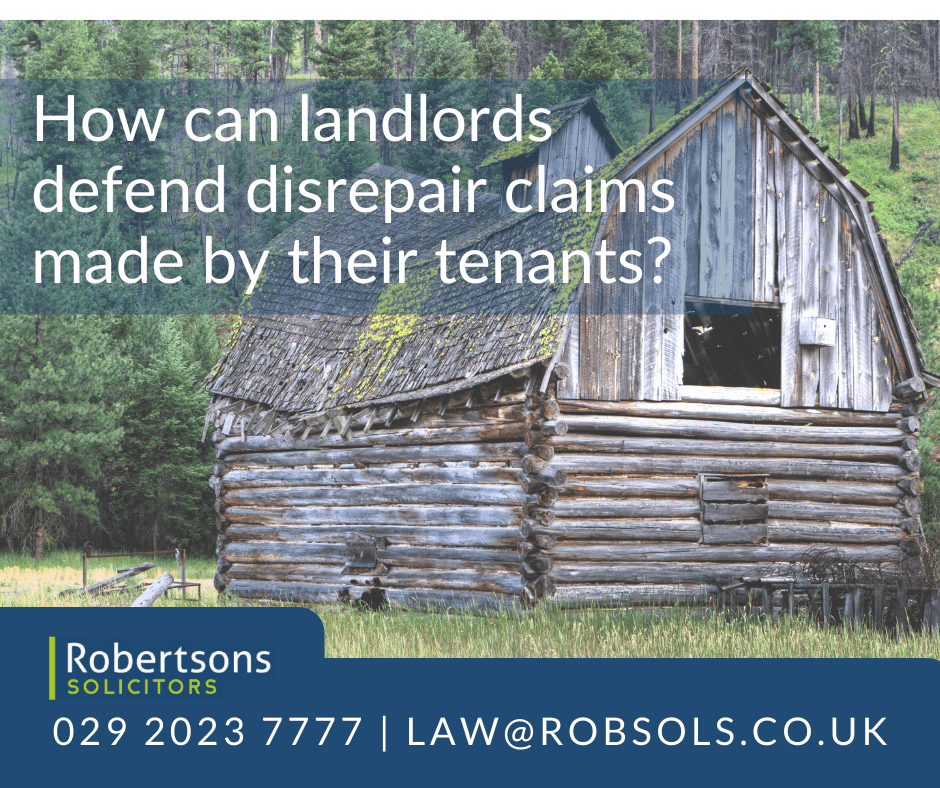 Under Section 11 of the Housing Act 1987, all landlords have obligations to maintain the condition of a property and make sure it is in good repair. Specifically, you will be responsible for:
The property's exterior and structure
Installations to supply water heating and heating of spaces
Installations related to the property and communal areas
Installations to supply of electricity, water, gas and sanitation
The agreement you have with your tenant, i.e. your tenancy agreement, may afford you more responsibilities. Simultaneously, the tenant may have responsibilities as established in the same agreement.
More tenants are choosing to claim against their landlords for poor conditions and landlords not repairing issues and fixing problems in good time. If you have failed in these departments, there is a chance that your tenant could file a claim against you.
There is an upward trend in tenants pursuing claims against landlords for the aforementioned reasons. Your first notice of their claim could well be when a letter comes through your door requesting compensation and reimbursement of the tenant's legal fees.
If this type of letter lands at your door, it is crucial that you react promptly. Get in touch with us so we can assess the claim, allegations and your official records. This will help us understand if the tenant has reason to claim and we can then advise you on your next steps to take.
Some landlords believe they can escape claims by stating their agent was supposed to take care of any issues or fixes. If you have not acted correctly, the blame lies with you as the landlord and you could be sued by your tenant.
If it is evident that the tenant's claim is valid, we can work with you to negotiate repair work and a fair settlement that is commercially sound. If we conclude that the tenant's claim is flawed or has zero merits, we are on hand to defend you robustly if legal proceedings begin.
If you do not deal with any disrepair and your tenant takes their evidence to the local council, you may be served with a notice to tell you to make the required improvements. This notice stops from employing a s21 Notice to retain your property. Thus, you must act fast when any tenant reports disrepair.
Any disrepair claims can be used to prevent your own claim to win your property back in a claim for possession by stalling your claim. Most claims for possession are made because of rent arrears, the tenant can counter this claim due to disrepairs – even when they are significantly behind on rent. It also means repossession processes can be extended by months and potentially more time without any rent.
We will help you have a robust defence and any counterclaims wiped off in the case that the tenant's claims are false or without merit. Alternatively, we can negotiate a disrepair claim against any arrears. Whatever the best course of action, we always work with you all the way.
It is important to bear in mind that a disrepair claim may also materialise into personal injury claims, which can increase costs for landlords significantly. Never delay when dealing with reports of disrepair.
The best defences against disrepair claims involve substantial and good evidence:Record the first instance of a disrepair report from the tenant
Note visits made by contractors and get them to make written reports after their visit – even if just a very short one.
Record reports from contractors where they believe the tenant has caused disrepair or damage.
Carry out regular inspections of the property to reduce disrepair occurring in the first place.
If you are facing disrepair claims from your tenant, contact us as soon as you can to arrange an appointment.