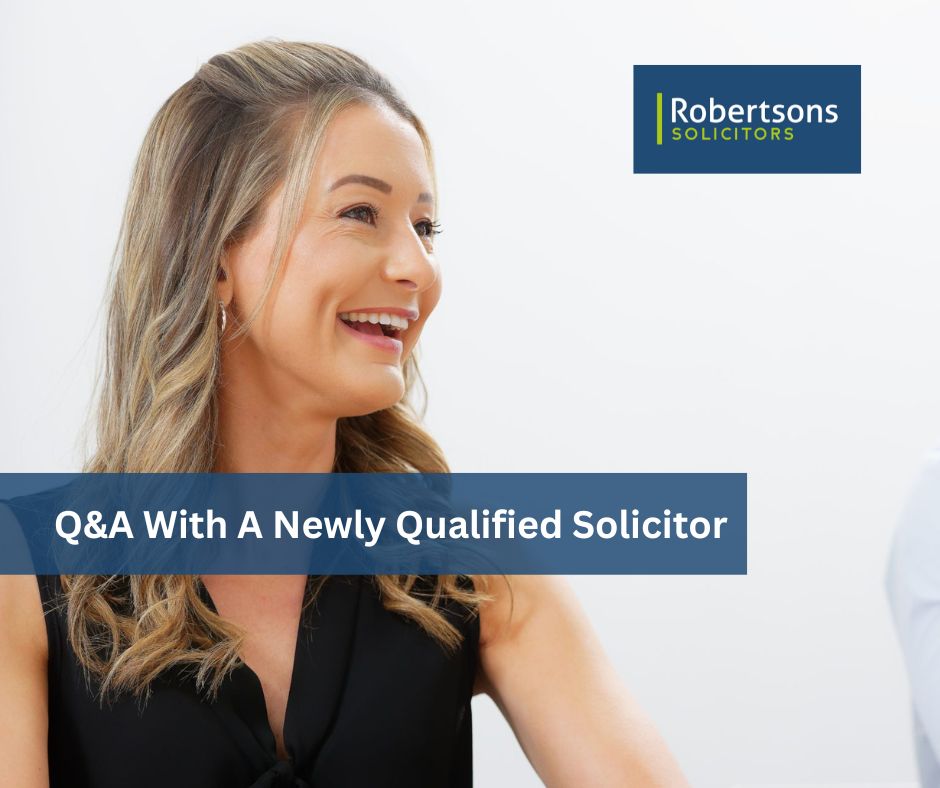 Introducing Kelly Shaw, a newly qualified solicitor in the Family Law Department at Robertsons Solicitors. In this Q&A, Kelly shares insights into her journey into family law, the challenges and rewards of her role and offers valuable advice for aspiring solicitors entering the field.
Q: Congratulations on becoming a newly qualified solicitor, Kelly Shaw! Can you tell us a bit about your background and what led you to pursue a career in family law?
Kelly: Thank you! I'm thrilled to have qualified as a solicitor. My journey into family law began during my undergraduate studies in law. I was always interested in helping people navigate through difficult times in their lives, and family law seemed like the perfect avenue for that. The complexity of family dynamics and the opportunity to provide meaningful support to clients during challenging situations drew me to this field.
Q: What does your role as a solicitor in the Family Law Department at Robertsons Solicitors entail?
Kelly: In my role, I handle a wide range of family law matters, including divorce, child custody and grandparent rights. My responsibilities include providing legal advice to clients, drafting legal documents, representing clients in court and negotiating settlements. I work closely with our clients to understand their unique situations and help them achieve the best possible outcomes.
Q: Family law can be emotionally charged. How do you approach working with clients who are going through difficult times in their lives?
Kelly: It's true that family law cases often involve a high degree of emotion. To effectively assist clients, I prioritise empathy and active listening. I make an effort to create a safe and supportive environment where clients can share their concerns and feelings. It's essential to be both legally knowledgeable and emotionally sensitive in this field, and I aim to strike that balance to guide clients through their challenges.
Q: What do you find most rewarding about practicing family law?
Kelly: The most rewarding aspect of practicing family law is helping families find resolutions to their issues. It's incredibly satisfying to see the positive impact our work can have on clients' lives. Whether it's helping parents reach amicable child arrangements or facilitating a fair division of assets in a divorce, the sense of accomplishment and the opportunity to make a difference in people's lives is what keeps me motivated.
Q: As a newly qualified solicitor, what are your goals and aspirations for your career in family law?
Kelly: My primary goal is to continue developing my expertise in family law and serving my clients to the best of my ability. I aspire to become a trusted advocate for individuals facing family-related legal challenges.
Q: Any advice for aspiring solicitors looking to enter the field of family law?
Kelly: Absolutely! Family law can be a fulfilling but challenging area of law. My advice would be to develop strong interpersonal and communication skills, as they are crucial when working with clients during emotional and difficult times.
With our Head Office based in Park Place in the centre of Cardiff, we offer a range of legal services including Commercial, Litigation, Education, Residential Property, Probate & Trusts and Family & Matrimonial.
Call Kelly Shaw or another member of our Cardiff Solicitors team on 029 2023 7777 or email us via law@robsols.co.uk for a consultation.