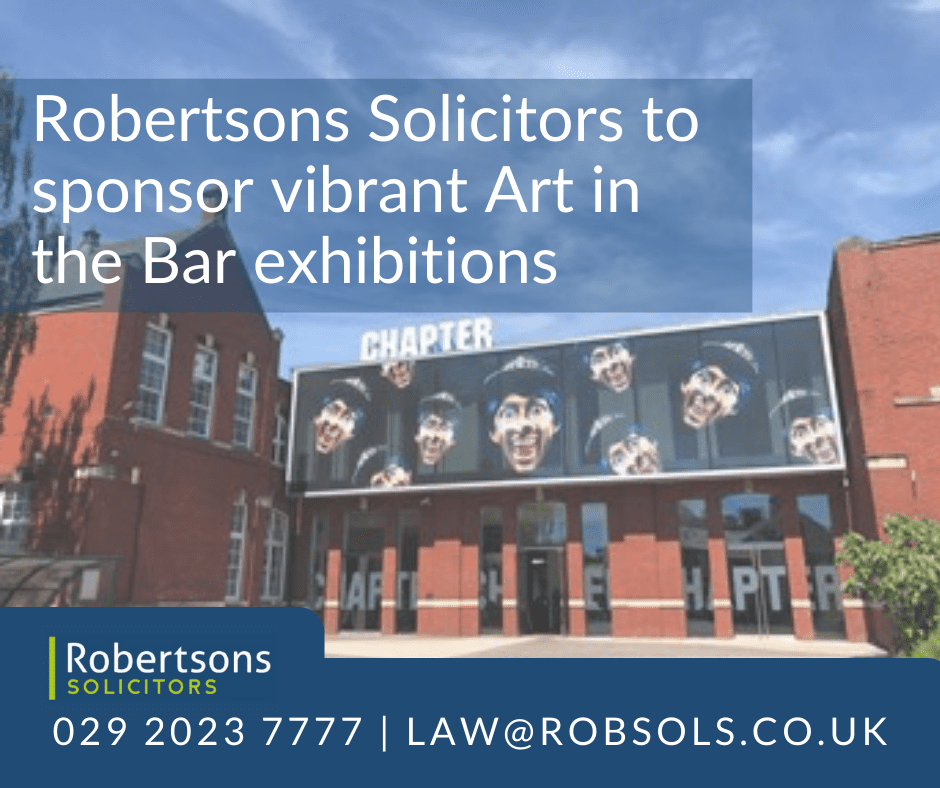 Robertsons Solicitors to sponsor vibrant Art in the Bar exhibitions
Chapter is thrilled to announce that Cardiff-based law firm Robertsons Solicitors will be sponsoring the 2019-20 programme of Art in the Bar exhibitions. These free, public installations are the central artistic feature of the building, visible to 750,000+ visitors who pass through Chapter's doors every year. The ever-changing programme of contemporary exhibitions – which have included large-scale prints, paintings and photography – transform the Caffi Bar space and are testament to Chapter's enduring aim of promoting and exhibiting visual art by artists at all stages in their careers.
For some artists exhibiting work it may be their first exhibition in Wales, or for others an opportunity to work on a large, site-specific project. Art in the Bar is a crucial step for many and the first contact they will have had in terms of working with a professional gallery and experienced staff.
"Chapter really has something for everyone in the community in which it sits. The local community and Welsh art are both important to Robertsons as a firm and so we are delighted to be able to support the centre. We're particularly looking forward to viewing some of the exciting art on the huge Caffi Bar wall in the coming year!"
Chris Barber, Robertsons Solicitors
Highlights of the forthcoming programme include south Wales-based artist Jon Pountney, whose work spans photography, painting, drawing, and film-making, and Sarah Taylor Silverwood, a visual artist from Wales and now based in Birmingham. Silverwood's recent projects include New Art Gallery Walsall (solo show, 2019), Multistory (2018 commission), the British Consulate in Chicago, USA (2014) and The University of Birmingham (2013).
Previous Art in the Bar artists include Cornelia Baltes, Thomas Goddard, Stanley Donwood, Richard Woods, Kelly Best, Bob and Roberta Smith, Freya Dooley and Louise Bourgeois.
"Art in the Bar has always been an important part of the visual arts programme at Chapter, supporting and developing the work of artists at all stages in their careers. The sponsorship from Robertsons Solicitors enables us to continue to offer a platform for outstanding local and international artists to present their work."
Catherine Angle, Chapter
For further information please contact Rosie Johns: rosiejohns@chapter.org / 029 2035 5669
Notes to Editor
About Chapter
Chapter is a multi-artform contemporary arts venue based in Cardiff, Wales that produces and presents international art, performance and film. Chapter is one of Europe's largest arts centres with exhibition spaces, cinemas, theatres, studios, a café, an award-winning bar, over 40 cultural workspaces and more. Chapter has an international reputation for excellence, innovation and collaboration.
About Robertsons Solicitors
A multi-disciplinary law firm based in Cardiff and Barry, Robertsons was established in 1903 in the docklands area of Cardiff. Merging with Paddison Wigley in 1985, they relocated to their listed building premises at Park Place, Cardiff in 1987, where they are still based.