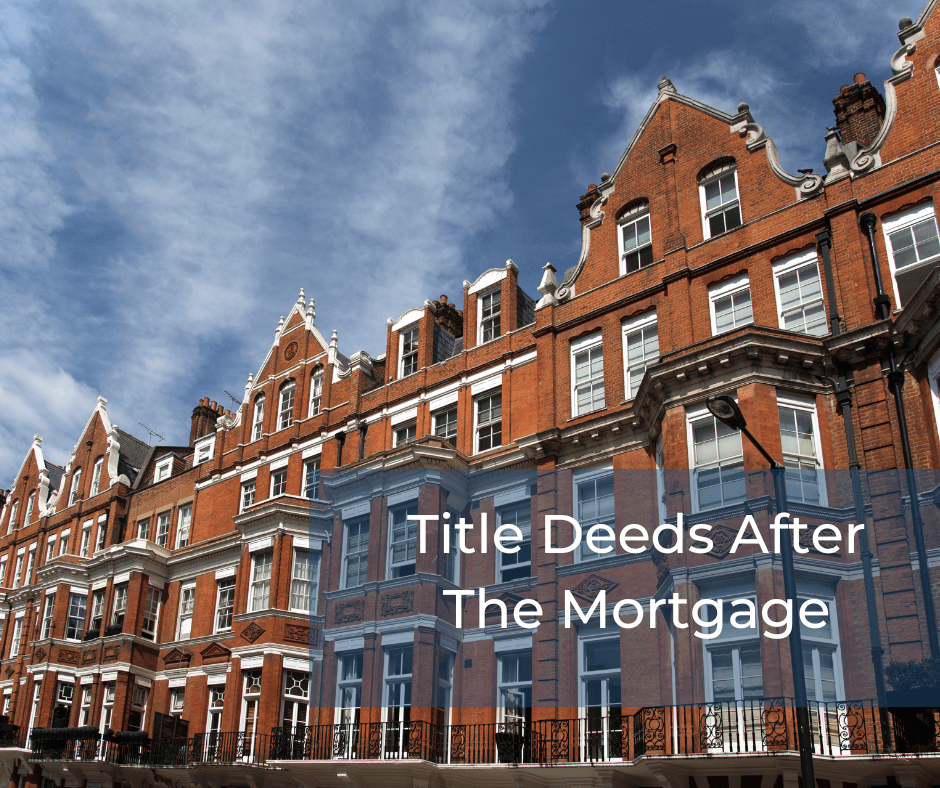 Paying off your mortgage is a life event that is often accompanied by the pop of a champagne cork. Your home is finally yours and you are mortgage-free.
But what happens to all the documents, do you need to arrange to recover them, will a solicitor do it for you and what about the deeds?
For anyone in the Cardiff area of South Wales or anywhere else across the UK, find out the answer from our experienced conveyancing solicitors.
Once your mortgage is paid off, your mortgage lender or solicitor will contact HM Land Registry and inform them the property has been 'discharged' or paid off. The land registry will update details. Afterwards, you can keep the title deeds yourself (if any exist) or give them to a solicitor or bank for safe keeping.
To understand more easily what happens to title deeds after a mortgage is paid off, let's start with a little background on what title deeds are.
What are title deeds?
The land registry was first set up in 1862 and began to provide a record of land ownership. It provided an easy method of locating the owner of any property or land. It also considers whether the property is held as joint tenants or tenants in common.
Paper documents were originally used to show a particular property or land ownership, but the Land Registry has moved all its paper documents onto a digital system since 2003. Title needs are now all held electronically and they no longer keep any paper copies.
Once a property is sold, title deeds are passed to the new owner and this transfer of title remains an integral part of the legalities required when buying or selling a property. They are also used if any property developers or owners are looking for planning permission for any redevelopment.
"The land registry was first set up way back in 1862 and began to provide a record of land ownership."
What happens to the deeds when I first buy a house?
For anyone wondering what happens to deeds once you've paid off your mortgage, it's worth understanding the deed process when buying a property. (Read our article: Should you get a solicitor before making an offer?)
During the purchase process of land or property, your solicitor will receive the title deeds. At this point, they will then register your mortgage against the deed title.
The deeds are then usually sent electronically to your mortgage provider who will usually keep them until your mortgage is paid off.
Once your property is registered there is no specific need for you to physically hold the deeds. However, mortgage lenders may hold the title deeds during the term of the mortgage or ask that your solicitor does so.
They will also register a 'charge' on your property to declare and protect their interest as the mortgagee, meaning that you will not be able to sell or remortgage the property without their consent.
"During the purchase process of land or property, your solicitor will receive the title deeds"
What if I decide to sell my property before my mortgage is paid off?
When you sell a property before your mortgage is paid off, then this will be cleared from the proceeds of the sale by your solicitor.
Once the mortgage amount is fully cleared, your solicitor will arrange for the deeds to be released to the solicitors and mortgage provider of the new buyer.
Once this mortgage has been finally paid, you may need to pay the lender a final fee which will cover the administration necessary to return your deeds.
The deeds will then be sent to you and you can either keep them safe yourself or ask your bank or solicitors to hold them securely for you. This may come with a charge for administration.
"your solicitor will arrange for the deeds to be released to the solicitors and mortgage provider of the new buyer'
Is there any information I need on the deeds when I pay off my mortgage?
When owning a house, you personally don't need to hold proof of ownership in the same way as you might do when legally requiring a logbook for your car, for example.
The records relating to your home kept by the land registry can supply various information which may be useful. For instance, you may discover that a house you were interested in has neighbours who have been unknowingly using part of a garden relating to the property.
Deeds will usually show the boundaries and the extent of the property and also will show who owns the property and the mortgage.
Once you have paid off your mortgage there will of course be no mortgage details showing.
If you have paid off your mortgage and you would like to check any details of the deeds, you can search for a property on the HM Land Registry website.
Where are house deeds kept?
Electronic copies of title deeds are stored by Land Registry, but they no longer keep paper copies.
Original title deeds are usually stored with a solicitor or conveyancer who acted on the last sale of the property. Alternatively, you may find they have been retained by your mortgage provider if you have a mortgage on the property.
If you would like to see a digital copy of the title deeds, you can request a copy on the Land Registry website. You will be required to pay a small fee.
What happens upon mortgage completion?
When you've finished paying off your mortgage you are entitled to have your own documents which include property deeds returned to you.
At this point, the mortgage provider is no longer entitled to keep them and will usually return them to you with your final payment.
Your mortgage lender or solicitor will usually tell HM Land Registry that a particular property has been paid off or 'discharged.
Once this has been completed you may receive notification via a form that has been completed known as a 'cancellation of charges'.
Once this is received by you, you will need to apply to 'cancel entries relating to a charge' and fill in a form which proves your identity.
At this point, the Land Registry will make sure those details have all been updated and will inform you once it's been completed.
If your mortgage provider holds the deeds there may be a payment of between £50 to £100 to release them. This may change during the time you have held the mortgage and is subject to the terms of your mortgage agreement.
What happens to the title deeds if I have an interest-only mortgage?
When you have an interest-only type mortgage the original amount you borrowed will still be owed to the lender.
So in this case, once the term has ended on an interest-only mortgage there will still be a charge on the property (until the capital amount is paid off in full). This charge will still remain on the deeds.
And finally…
Our professional conveyancing team here at Robertsons Solicitors is accredited by The Law Society Conveyancing Quality Scheme (CQS). We also deal in Land Acquisition.
For any help with deeds, mortgage redemption or for any stage of house purchase, call a member of our Cardiff Solicitors team on 029 2023 7777 or email us via law@robsols.co.uk for a no-obligation consultation. We can ensure a smooth transaction without hidden fees and are always on hand to help.