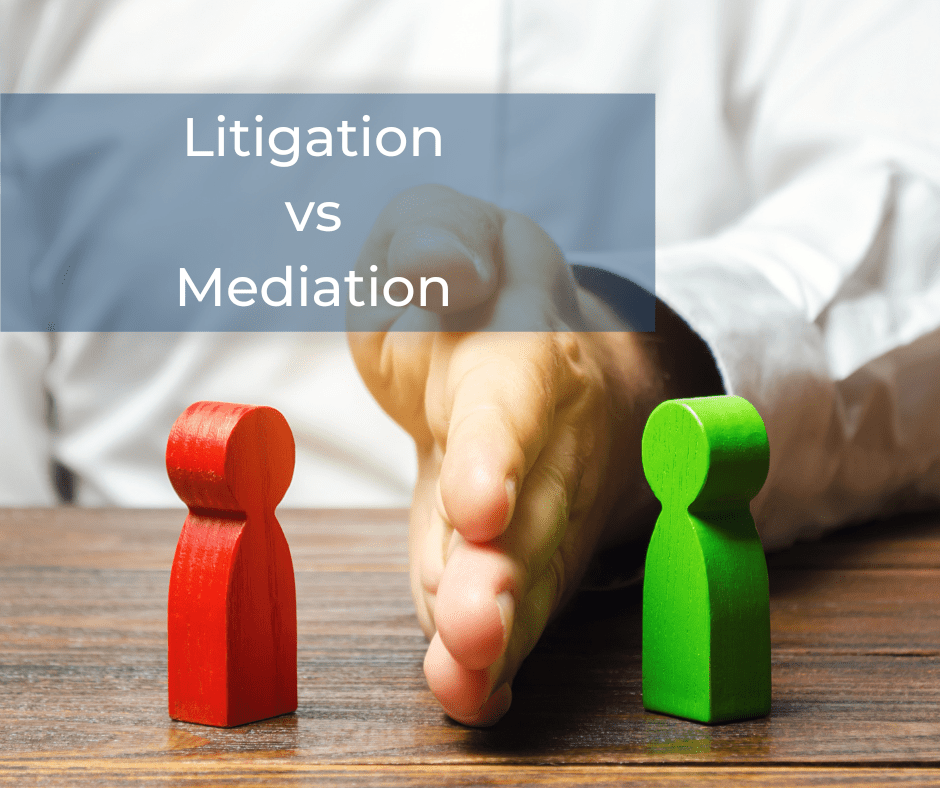 When it comes to disagreements, it can be difficult to know which is the best way of reaching a successful conclusion.
As expert lawyers in Cardiff and the Barry area of South Wales, we will guide you through litigation vs mediation and discover some of the key differences, costs, processes, and benefits.
In general, many of us understand that litigation is a way of resolving disputes during the court process, but what is mediation?
Read on to find out more so you can more easily decide on the best course of action.
What is mediation?
Mediation is one of the options in choosing an alternative method of dispute resolution known as an ADR.
In its simplest form mediation involves an impartial and independent third party who will settle disagreements between people and organisations.
It is confidential and flexible and can assist both parties to negotiate, and allows them to talk through any problems they have in reaching an agreement.
The aim of the mediation process is to reach a mutually beneficial solution.
"mediation involves an impartial and independent third party who will settle disagreements between people and organisations".
Litigation vs Mediation – Process
More control: Unlike the court process used in litigation, mediation allows you to decide how the resolution should be achieved. In litigation, a court makes the final decision but during mediation, you have more control. Mediation allows you to stay in control and not accept outcomes you aren't happy with.
Usually quicker: In general mediation has quicker outcomes than what can be a lengthy litigation process. Court backlogs and processes can mean the litigation process can take considerable time to reach a conclusion. Some mediation can be completed within a day.
Mediation provides a safe environment: During the mediation process, the mediator will talk to both parties privately and gather information based on listening to the views of both sides. They may sometimes talk to you both together and help safely guide you through the process.
Confidential: In contrast to court proceedings and the litigation process, mediation is 100% private. When solving disputes using litigation or will be a public process. It's important to understand when comparing litigation and mediation that anyone can access the records of a court case.
Mediation supports relationships: When solving disputes through litigation means there can be pressure added to the relationships of the two parties in disagreement. By choosing the mediation process you can communicate together in order to find the best solution for everyone.
When can you use mediation?
There are a number of situations where mediation might be suitable to come to an agreement.
In general, they are used to resolve workplace disagreements such as conduct, dismissal or pay-related disputes.
Here are a few situations where you might decide to use mediation to solve workplace grievances.
Personality problems between colleagues
Breakdown of relationships
Pay disputes
Bullying or harassment
Let's find out a little more about what litigation is so we can more easily compare it to the mediation process.
What is litigation?
The process of taking a dispute to court is known as litigation. A court case can take a long time to prepare, with a number of steps to be gone through before the actual hearing.
Litigation can be used for a wide range of disputes, including commercial disputes, employment issues and family law matters. There is a range of different courts and tribunals, depending on the nature of the case to be heard as well as the value of your claim.
Types of litigation
Litigation can be civil or criminal. Civil litigation covers a full range of legal disputes, including the following:
Family law
Divorce
Inheritance claims
Recovery of debts
Personal injury and negligence claims
Breach of contract
Commercial and employment disagreements
Disputes between landlords and tenants
There are various advantages of litigation. To find out more, head over to our other article on this subject, Advantages And Disadvantages Of Litigation: A Quick Guide.
So you can more easily make a decision about whether mediation or litigation is right for you, let's now put them head to head on some other important aspects of solving disagreements.
Cooperation
When using the court processes the other party must turn up for hearings, submit documents and operate fully to present their version of events.
If they fail to attend court you can request a default judgment. Furthermore, if they refuse to present a document they can be subpoenaed.
During litigation, the court will ensure that the other party has to cooperate.
Precedent
One of the advantages of litigation vs mediation is any previous cases can be used to set a precedent for your own.
The court will investigate how your type of dispute has been handled in the past and it may help build your case and contribute to the result.
In mediation, the result is agreed on a case-by-case basis.
Evidence
When comparing litigation to mediation, litigation can be advantageous when it comes to providing evidence.
During litigation, all relevant evidence should be put forward.
If one party insists they don't have a certain piece of evidence or document then the right of disclosure during the litigation process comes into play. This ensures all crucial evidence can be accessed.
Litigation vs Mediation Cost
Cost may be a consideration when deciding between litigation and mediation. Let's compare both for potential cost implications.
Mediation
The general costs of mediation are worked in most cases on a daily tariff.
A starting point for commercial mediation can be around £2,000 a day. This may be cheaper than litigation if the resolution can be reached within that day's time frame.
Although it's worth understanding that if there are significant sums of money in dispute then often the costs will be in proportion to that value.
You may also be charged for the time of any legal representation too, in addition to your share of the mediation costs.
Fees are usually paid in advance and if the mediator is VAT registered, this will also be included, but it can be recovered if your company is also VAT registered.
If your disagreement refers to a claim for money under £10,000, you may be able to use the Government's free Small Claims Mediation Service.
For landlords or tenants in a housing possession dispute, you might be able to use the Government's free Rental Mediation Service.
Litigation
In contrast to mediation, some trials can mean extra costs if there is a large amount of preparation involved.
When issuing an online claim in a monetary dispute here is a breakdown of court costs.
NOTE: The costs and figures shown below are estimated at the time of writing. Court costs and associated costs may vary. To get a more accurate figure, contact us here.
| | |
| --- | --- |
| Claim amount | Approximate Cost |
| Up to £300 | £35 |
| £300 to £5000 | £50 – £205 |
| £5000 to £10,000 | £455 |
| £10,000 to £200,000 | 5% of claimed value |
| Greater than £200,000 | Cost capped at £10,000 |
Litigation also involves additional costs that depend on other factors including your legal representation fees. However, some are exempt from the costs. It's worth knowing too that further court costs may arise and it can be difficult to determine the exact costs of the litigation process.
And finally…
Any type of dispute resolution can be draining emotionally and time-consuming, but with our years of experience and expertise, our skilled lawyers in the Cardiff and Barry area of Wales can help guide you through the process.
For more information on Litigation covering personal injury at work, medical negligence or all aspects of commercial litigation, get in touch for a confidential and completely free of charge consultation with our friendly and professional team.
---